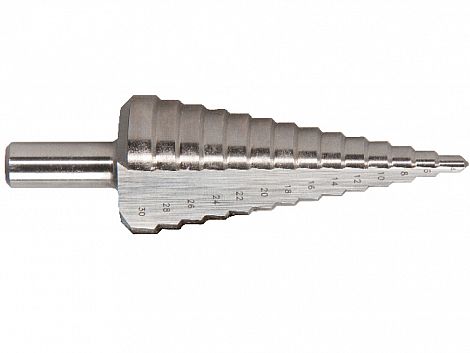 Discontinued product
Step Drill Bits are designed with the capacity to, at once, drill multiple hole sizes. The bit diameter of these bit types increases from the tip in specific increments following a stair-step profile – like a pyramid, each tier of the bit drills a hole with a different, larger diameter.
Application: Drilling and enlarging holes in thin metal sheets and other soft materials
Material: HSS 4341, HSS M2.




Nomenclature
| | | | | | |
| --- | --- | --- | --- | --- | --- |
| Size, mm | Steps | Step diameter, mm | Shank, mm | Total length, mm | Pcs/Pack |
| 4–30 | 14 | ø 4/6/8/10/12/14/16/18/20/22/24/26/28/30 | 10 | 100 | 1 |