Activities
Our main activites include:
Manufacturing of professional power tools – SPARKY branded and in cooperation with other established producers of power tools
Manufacturing of "private label" power tools
Production of components for other companies (outsourcing)
Assembly work for established producers of power tools and other products
Original Equipment Manifacturer (OEM) assembly
Production Process
The production process in SPARKY ELTOS AD is fully closed, which allows us to have a full quality control of all processes. SPARKY manages to sustain competitive price-quality mix, facing strong competition on foreign markets and in Bulgaria after EU admission.
We aim a well-balanced price-to-quality SPARKY products are in good market position to compete no-name, low-price products.
Products
We have a well-diversified product portfolio – the product range includes over 200 professional models and modifications. Tests for the development of design and technology are constantly made, thanks to the
Rapid Prototyping equipment, aimed the ensure that products SPARKY continue to provide the highest quality on the market.
SPARKY strives to deliver to it's customers excellent after-sales service and established network of locations for warranty and post-warranty services and spare parts market.
We use all of our project management expertise to ensure that we meet our own high-quality standards every time. As an experienced partner, we stand shoulder-to-shoulder with our customers, providing intensive support right from the very start.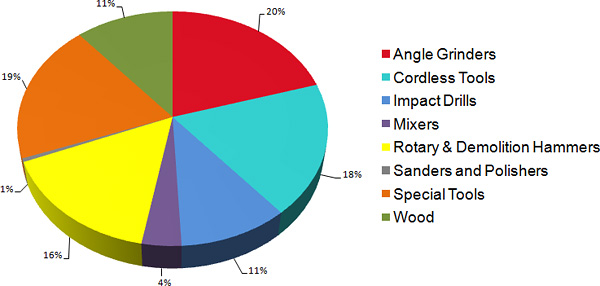 Aims
Growing market and popularity of cordless power tools
Introduction and increasing importance of Li-Ion batteries, due to their longer endurance and environmental compliance
Improvements of product ergonomics – production of light-weight tools